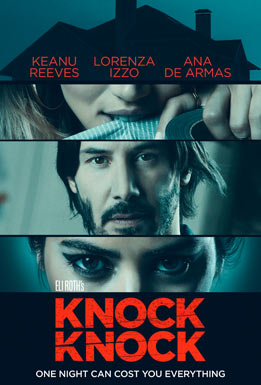 Knock, Knock
Consider this a public service I give to the community that I have seen Knock, Knock so that you don't have to.  When I do this 31 horror movies in Oct, I try to stay pure and not learn too much about the film.  I knew that Keanu was in it and Eli Roth was directing, that's about it.  I barely made it through the movie and really wanted to stop it many times, but I didn't want to have to re-start a new movie, so I just went to the end, and man was it a struggle.
If you want to see a man get raped, and tortured for over an hour to two beautiful yet it every way despicable women then go for it, but just remember, I did this so you don't have to.
There was a MUCH better version of this story called Funny Games, which I think is brilliant and horrifying.  This just isn't that.  If it was a 20 min short, maybe it would be interesting, but man does it go on and on.
I should have known with Eli Roth at the helm.  I just can't get into his films, he has a taste and interest in horror that is a different spectrum than myself, and he knows how to make films, I just don't like the stories he tells.  This is one of those well made movies that shouldn't have left development, but I imagine the cost was low and so what the heck, right?
I just can't figure out why someone would want to watch a movie about 2 evil bitches.  Even Jason Voorhees has some redeemable qualities (go to my Friday 13th post about those).
I'm also offended by this movie one two more points:
1. How dare you Eli use the Pixies in the soundtrack for this movie?  A crappy movie like this should not get the rights to use the Pixies.
Eli is missing a BIG element to the horror genre, we need to get satisfaction!  I'm not saying that the good guy must win, but dude, we can't watch for 90 minutes our protagonist get abused and then the evil bitches ride off into the sunset without a scrape, that's just not the way it's done.
There you go.  I've spent enough time on it.  Knock, Knock.  Save yourself and don't open the door.
Andres Salazar writes a horror graphic novel called Pariah Missouri, you can learn more at www.pariahmissouri.com