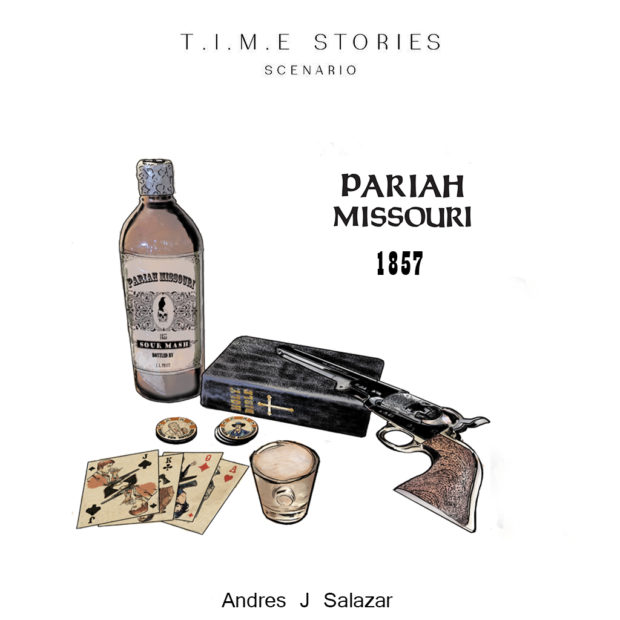 So you wanna play-test Pariah, Missouri?
Great.
A couple of things first.
 This is to play-test Pariah Missouri scenario for TIME Stories.  You need TIME stories to play this.  It's a deck of ~195 tarot-sized cards that you will need to print out, put them in a stack and run through the game.  It took me about 80 hours to do this, NOT including all the art, which came from my comic book series, which I don't even want to speculate on how long that took us.  So, a lot of time, blood, sweat and tears went into making this.  If you feel inclined and enjoyed the game, I will accept donations!
Based on your feedback, I will be making some modifications to the game.
Survey  – note: Do not read the survey until after you play Pariah Missouri.  The survey contains spoilers!   At the end of the .pdf file there is a 1-page form that will have some questions that I would like filled out.  Your gaming group does not have to agree to the answers, each player can circle their own response.  You have a couple of options, you can print out the survey and scan it back to me, or you can download the survey form and send it back as a word document through email.  I need these back no later than May 25th.  Thank you!
  Feel free to also use the Comments section below to chat and ask questions, I'll be responding every day..
NOTE:  One correction made!  LOCATIONS MIXED UP:  Livery E and The Veil A are mixed up.  A new corrected version is now linked on this site.  (check at the file is .Rough-4)
Did you enjoy the game?  If so feel free to put a little in the TIP JAR.  All donations will go to the production and art costs for Pariah vol. 3.  All donations will also receive a digital copy of Pariah Missouri graphic novel!  If you really get into it, you can purchase all the books digitally or physical at http://salazarentertainment.storenvy.com/
LINK TO TIME STORIES: Pariah Missouri PDF
If you are experiencing questions about Rules, Locations or things like that, go here to the FAQ Message board!
Pariah, Missouri Rules and FAQ