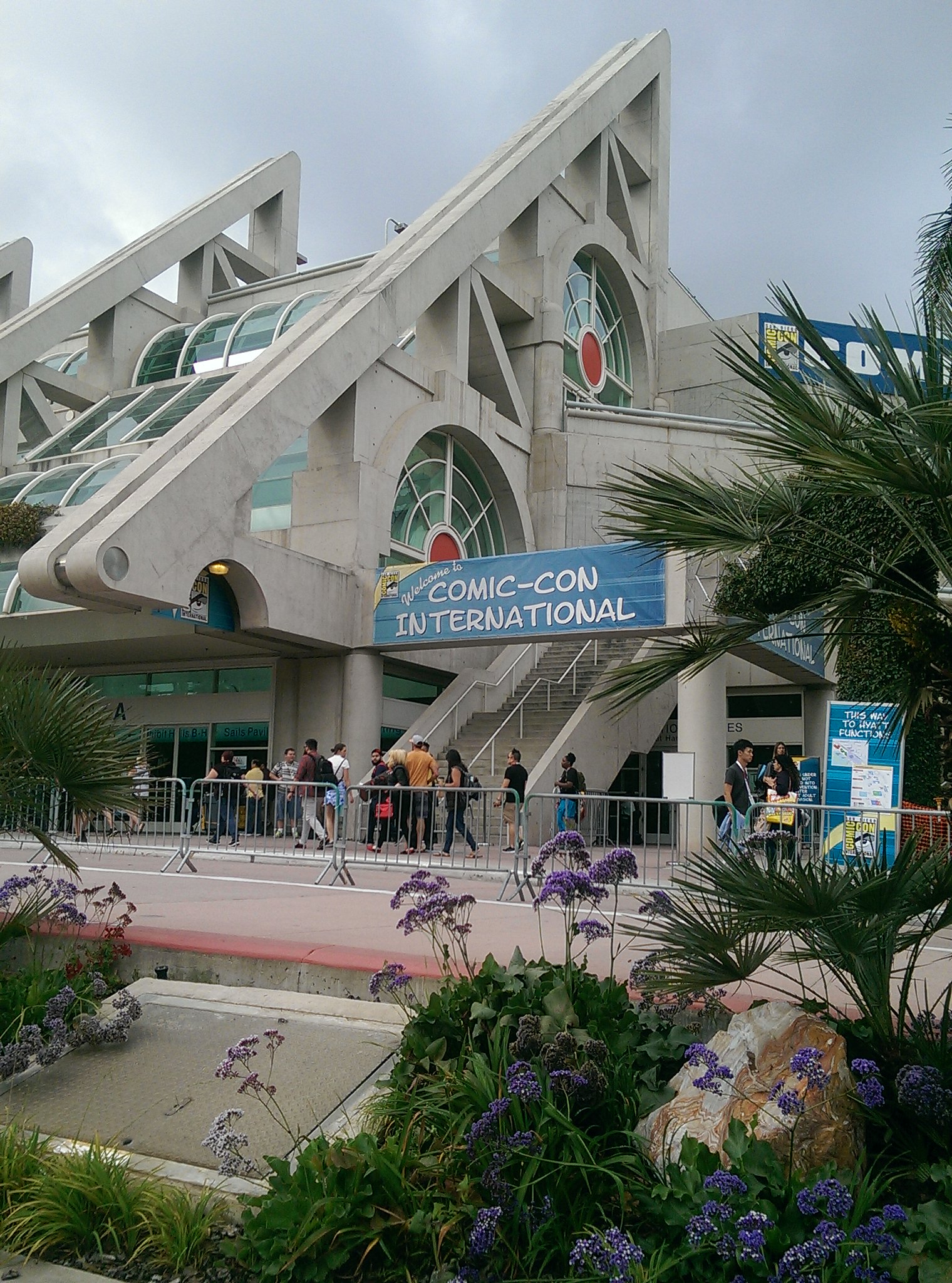 As most of you know, I'm a comic book creator.  It's been my full-time occupation for the last two years of self-publishing and selling books.  Comic conventions make up a large portion of my income, along with online, brick & mortar sales and crowdfunding, so it's important for my business to select the right convention that fits my needs.  I average about 13 conventions a year, throughout the west coast.  That's what we are here to talk about today… San Diego Comic Con and if it still works for self publishers.
I LOVE "Comic Con".  I went for the first time about fourteen years ago and have a blast every time I go.  It's big bad momma of conventions, it's ridiculous, massive and a pain to get tickets to and we all love it.  So when I finished the first issue of Pariah Missouri I immediately wanted to get a booth there and flood my four-color genius to the ends of the world.  Two years ago was my first time attending as an exhibitor and we had a very exciting and different experience; you get to go in an hour early, feel like a rock star and make some new connections.
SDCC, Comic Con International is a "non-profit educational corporation dedicated to creating awareness of, and appreciation for, comics and related popular artforms, primarily through the presentation of conventions and events that celebrate the historic and ongoing contribution of comics to art and culture."  Their staff is great and respectful.  The first three years of me attending the convention (2001-2004) I went as a volunteer and had wonderful experiences with the crew.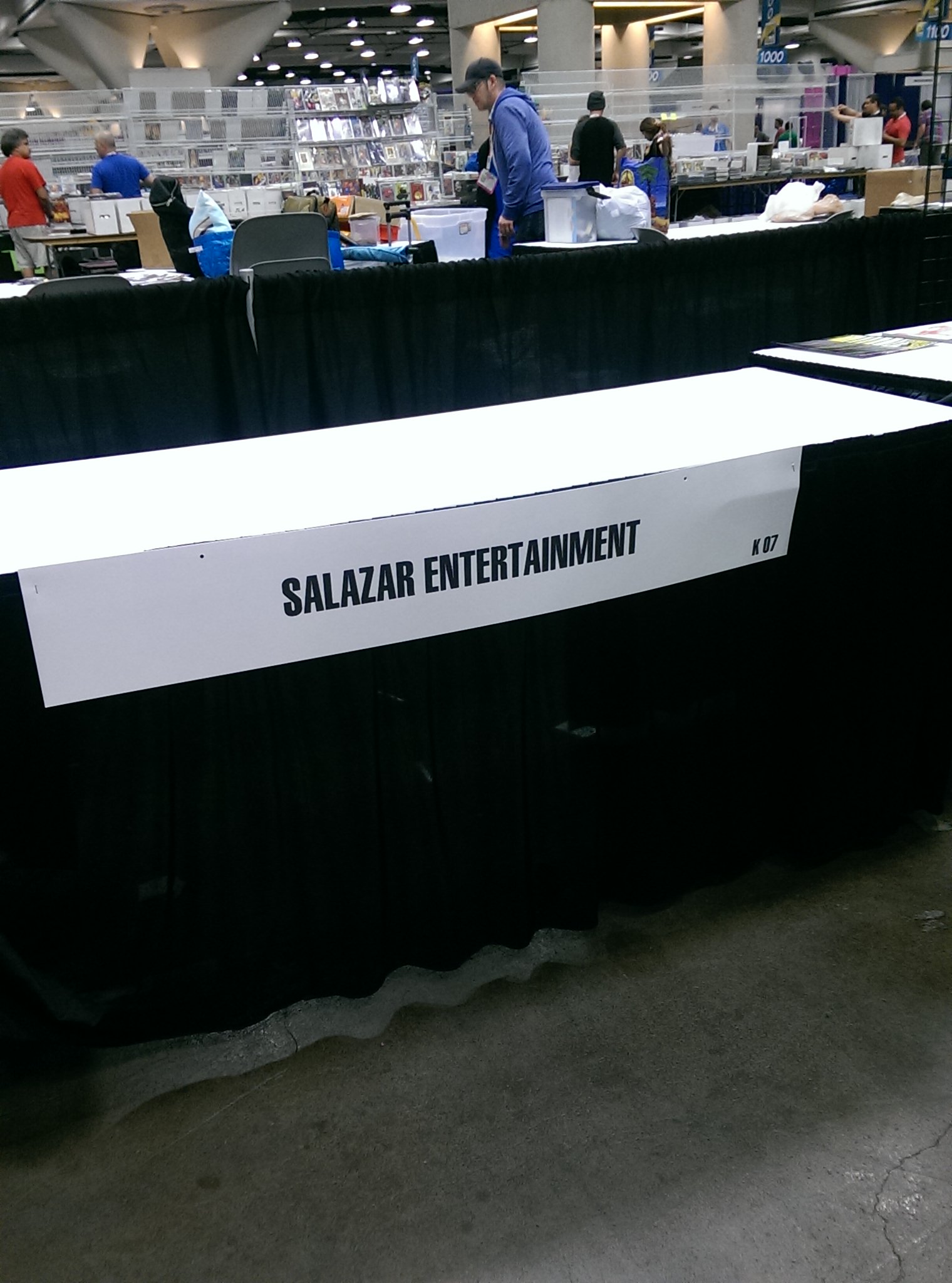 My first time as an exhibitor (2013) I got accepted into the Small Press area, a place for self publishers and indie creators that make comics.  Any Tom, Dick or Harry can't get in, you must submit your comics that you created this calendar year to an independent committee who will judge who is worthy to be in that small press area.  This year the fee was $500.  The price of the 6-foot table/booth goes up every year, I think the first time I was there it was $400.  Might seem steep to some, but they offset the costs by including 2 4-day badges, which if you purchased those alone, would run you close to the same.  First thing you might notice in Small Press is that these are not the massive Marvel and DC booths.  There's no cosplay hanging out here getting pictures of life-sized statues.  It is a row of 5-6 aisles that are packed with creators.
In 2013 I was disappointed to observe that not all my neighbors in this indie comic island of greatness were making comics.  Some, like me had a comic or graphic novel out, but there were a healthy handful that didnt.  Today in Small Press you might see someone selling just prints, or a game, or plushies, but not comics.  My idea was that this was the last bastion of comic con, the way it was meant to be, before Hollywood, TV and video games dominated the exhibitor hall, panels and attendees.  This shift in focus of SDCC is not unique, it's at all the conventions,  to bring more people in the events you make it more mainstream and as pop culture overlaps geek culture more and more in film & TV you have more of their presence.  That's just the way it is, I can't see how that will change.  There's still those conventions out there that are "comic book shows" like Big Wow and comic con international's own APE (Alternative Press Expo) but they are few in number.  (Note: APE has now been dropped from Comic Con Intnl. and Big Wow was bought by Silicon Valley Comic Convention)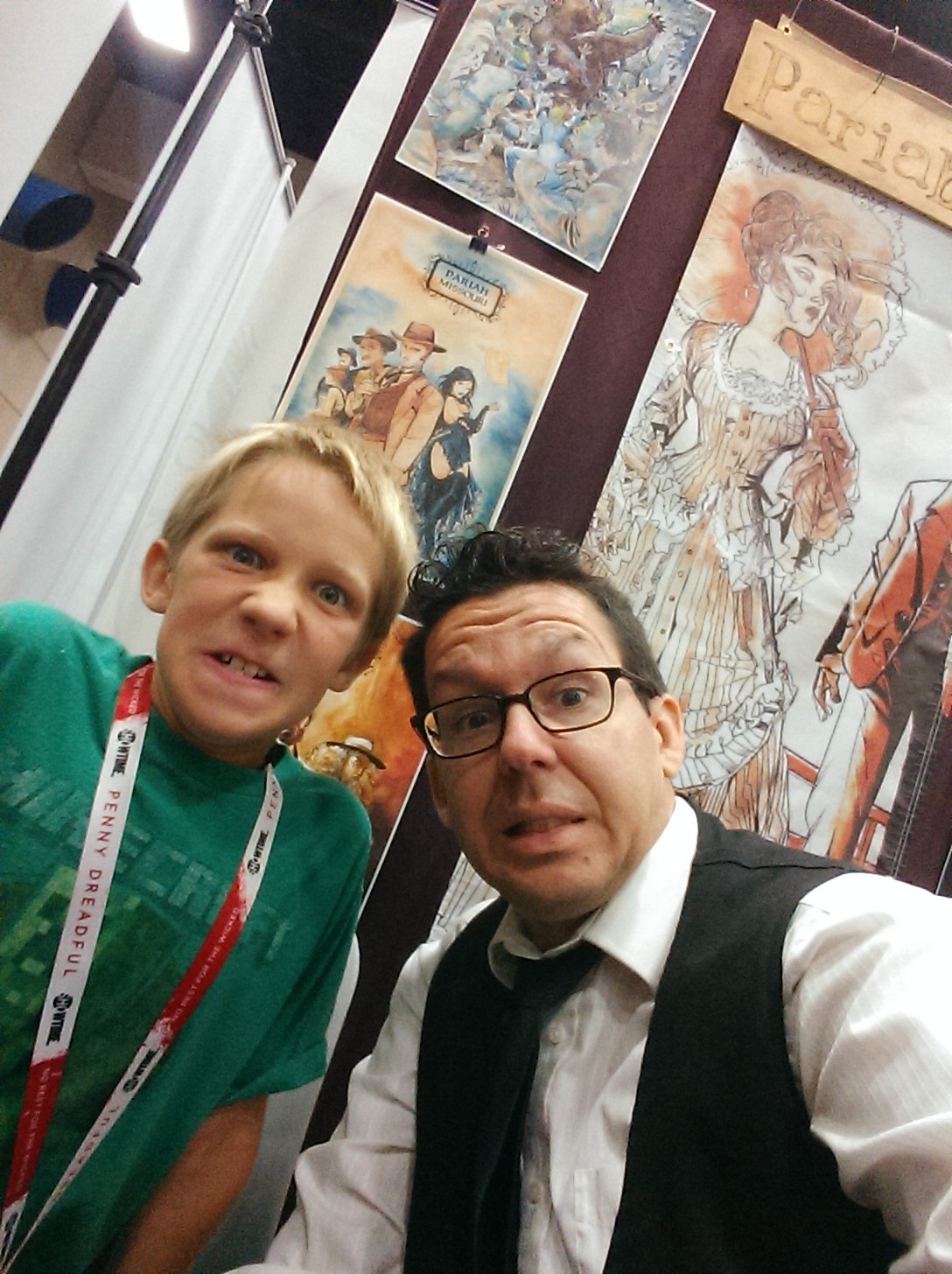 My awesome nephew Austin, he managed to survive a 6-foot booth for 4 days.
My first year in Small Press was a smashing success, I sold more books than any other convention.  Pariah book 1 was new and it went like hot cakes.  Books were 90% of my sales, and it should be noted that I had only one graphic novel, some art prints and shirts for sale.  We offered only a few items and sold them like gangbusters.  I knew that once book 2 came out I would be able to replicate that magic.
This year, Small Press had not changed, many of the same vendors kept the same locations on the aisle, we even were put in the same spot with the same neighbors.  What changed?  Was it the products?  The Show?  Or the attendees wants?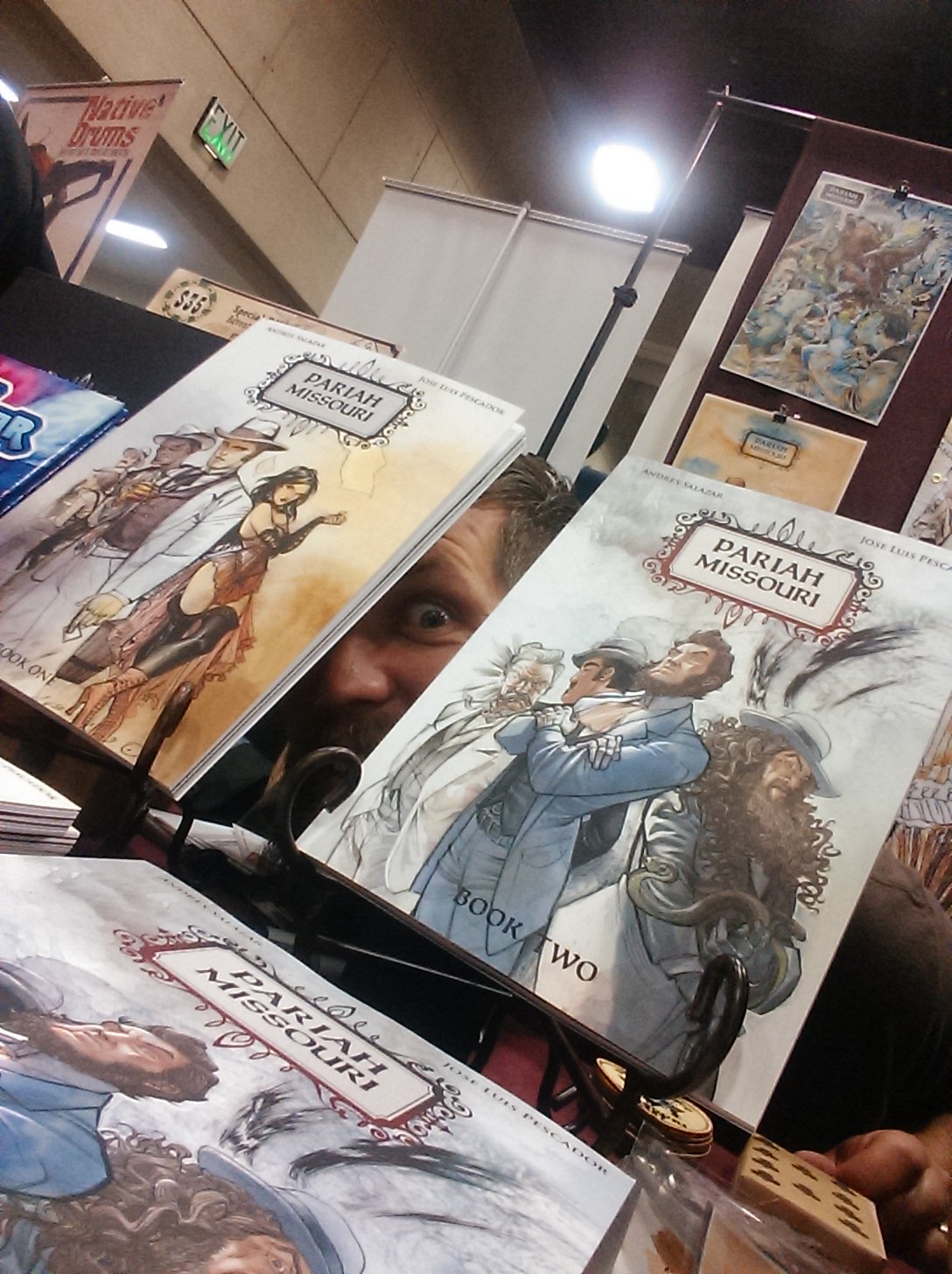 SDCC 2015 we sold mostly prints and very little books.  45% of our sales were prints and original art, a huge change from previous years and other comic conventions this year.  We sold less 70% LESS BOOKS than 2013 and that's with 3 books out and a RPG book.  Our product line increased from previous years and displaying all of that on the 6-foot table was a challenge.  That all said, our gross sales increased by 40%.  So we made more money than last year, by selling a fraction of the books and mostly art prints.  What does that say?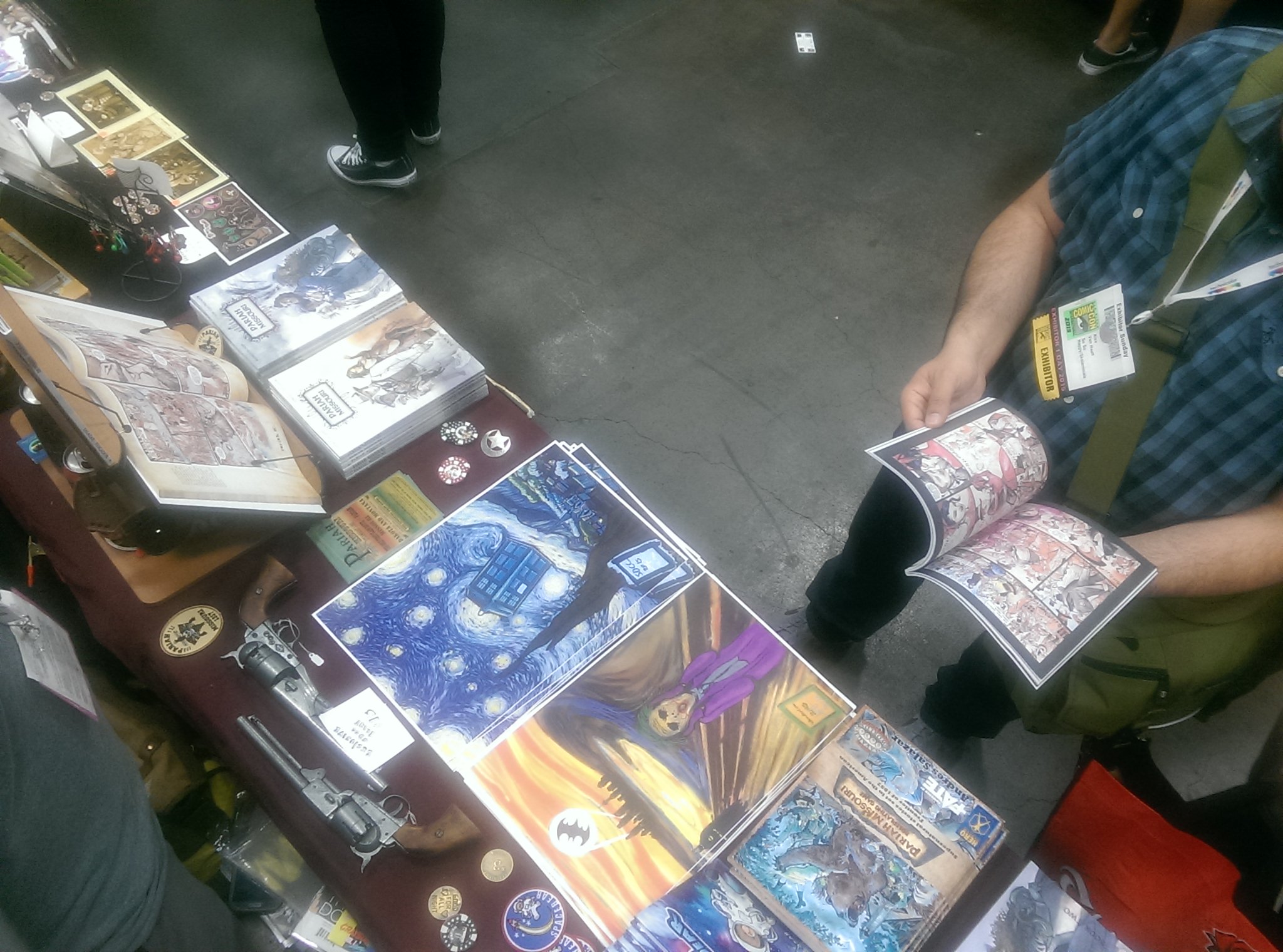 As a comic creator and writer my main focus and goal is to sell stories.  Get people invested in my books, my voice and create a long-term audience.  I do not believe selling prints will get me there.  I'm dumbfounded that at the biggest show of the year (4 days long) that I sold less books than I have at a 1-day comic book store signing.
I spoke to other creators and there was a general feeling that crowds were not buying books this year.  I asked around in other sections of the convention and it seems that others may have experienced similar.  Is this a trend for next year?
Was it my location in Small Press?  Not sure that is the cause either.  Small Press had better foot traffic than other parts of the convention, even parts of the Independent press pavilion.  So for the $500, it's not a bad spot, and upgrading to a $2500 booth might not be the answer.
The jury is still out on how to make SDCC a better convention.  That definition will vary among people, but if we go back to the mission statement, to promote comics, then I think Small Press needs to be highlighted.  Some of those vendors should be in Artist Alley, so that it's a place for storytellers.
I love comic con, San Diego was my first and I will always want to go, but the question becomes should I focus my exhibiting to other shows where books sell more or find a way to make it better and attract more readers.
What was your experience?
At the end of a show you gotta celebrate with some Popeyes!